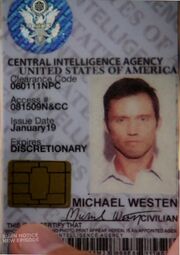 According to Michael, above 'Top Secret' clearance is SCI, which stands for Sensitive Compartmentalized Information. Access to it comes with the ability to cause serious harm. In the episode 'Breaking Point', Micheal received an identification card which verified that the CIA had again granted him the clearance required to access SCI.
Ad blocker interference detected!
Wikia is a free-to-use site that makes money from advertising. We have a modified experience for viewers using ad blockers

Wikia is not accessible if you've made further modifications. Remove the custom ad blocker rule(s) and the page will load as expected.