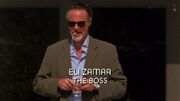 Eli Zamar
is one of the many enemies of
Michael Westen
's featured in the episode
Family Business
.
Eli Zamar was the head of major group of Lebanese gunrunners made up principally of his close family members Ari and Ilan Zamar.
Eli is calculating, cold, and demands respect. He is often disappointed by his sons and is often frustrated with his son Ari. Eli is rather skilled and shows it by noticing Michael and Sam watching him. This can be accredited to his former tenure in the Israeli Mossad Special Forces Group.
He and his business are eventually brought down by Michael and Ari's stupidity.
Ad blocker interference detected!
Wikia is a free-to-use site that makes money from advertising. We have a modified experience for viewers using ad blockers

Wikia is not accessible if you've made further modifications. Remove the custom ad blocker rule(s) and the page will load as expected.